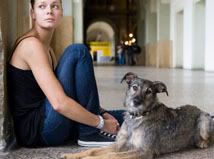 Europe has long been known for its pet friendly countries, as cities like Paris have welcomed dogs everywhere from restaurant tables to city shops. However, Tuscany, Italy has had a long-standing ban on pets in public – a ban that is soon to be lifted.
A new law was recently passed that will allow the family dog (or cat, rabbit or goldfish, for that matter) into theatres, museums, restaurants, post offices, and pretty much anywhere else their human companions choose to go. Pets in Italy must be well behaved and have a pet health certificate from a veterinarian in order to comply with the law's provisions. Sounds like Italy just became the ideal dog vacation spot!
Enjoy reading the Halo Purely For Pets blog? Subscribe to our RSS feed so you'll never miss an update!