Your dog is not the only one. Plenty of otherwise wonderful dogs enjoy the taste of poop. The term for this yucky behavior is coprophagia. So, what can be done so you don't have to fear the lick of your best friend? There is no one "cure," but there are some things you can try to help reduce, if not eliminate, this behavior.
Why Does My Dog Do It?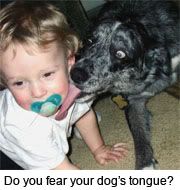 No one knows for sure, but there are plenty of theories. Puppies may observe their mother ingesting her young's feces. Puppies also go through an oral stage where they explore everything with their mouth, including fecal material. Most puppies will eventually grow out of the desire to eat their own feces as they mature.
If an older dog ingests feces, it's usually that of another species. Most common feces ingested are horse, cat, rabbit and bird. Plenty of older dogs also enjoy eating only frozen feces (a.k.a. poopsicles). There are plenty of theories out there that coprophagia could be caused by a nutritional deficiency. However, if this were the case there would be millions of nutritionally deficient dogs. If you are feeding your dog a well balanced nutritional diet, then your dog does not have a nutritional issue. Your dog, like most dogs, probably just likes to taste of poop.
How Can I Stop It?
You must ensure you feed your dog a high quality diet, you feed enough and you feed on a set schedule. Be sure your dog isn't bored. Bored puppies, in particular, like to explore with their mouths and will ingest anything and everything. It is also important to ensure you don't give your friend the opportunity to eat feces. Be sure to clean up any eliminations right after they happen.
Some people try to make the ingested feces distasteful by spraying the actual feces or adding something to the dog's diet. There are many food additives and sprays available, but their success is limited. Most owners find little to no change in their dog's behavior. Please check with your veterinarian before using any additive or spray.
The most reported successful solution is to teach your dog the "leave-it" command. However, even the best dog, when left alone with such "tasty treats," will opt to eat them. Most dogs can be taught to "leave" the feces alone, so long as they are rewarded appropriately (usually with a treat) for behaving. Behavior modification is generally effective, but you must take the time to practice training your coprophagic friend. Contact a dog obedience center in your area to find a trainer that can help you. You can also search online for a trainer at The Association of Pet Dog Trainers.
Rarely there are some dogs that actually have an obsessive compulsive disorder (OCD) about eating feces. Just like a person suffering from an OCD, these dogs need to seek the help of a professional. To find a veterinary behaviorist visit the American College of Veterinary Behaviorists.
Will It Make My Dog Sick?
No, not usually. Certainly any dog that eats feces (especially in large quantities) may experience gastrointestinal upset which may cause some vomiting or diarrhea. There is also added risk of parasite transmission since most types of parasites are transmitted through the fecal-oral route. Coprophagic dogs should be checked for parasites a couple times a year by a veterinarian. Coprophagia usually causes the owners more illness then the dog, simply because it's gross.
Enjoy reading the Halo Purely For Pets blog? Subscribe to our RSS feed so you'll never miss an update!