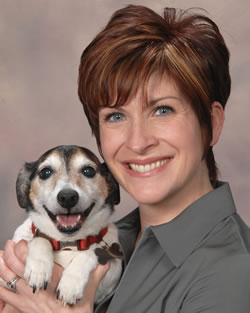 Question: My vet has diagnosed my dog with the Brachycephalic Syndrome breathing problem and has said he needs surgery. Can you tell me more about this and why he is affected? He is a 2 year old Boston Terrier.
Answer: Dogs who have a "pushed in" face are known as brachycephalic breeds. These breeds have a higher incidence of breathing problems because of their "normal" anatomy which includes these shorter skull bones. The features of the Brachycephalic Syndrome include stenotic or pinched nostrils, elongated soft palates in the back of the throat and problems with excess tissue or pouches around the voicebox (called everted laryngeal saccules) and smaller than normal windpipes (called hypoplastic tracheas).
Some affected dogs have only one or two of these features and others—who are more severely affected—will have all the features. Affected dogs often sound congested, snort or make loud noises when they are excited or are exercising and many will snore loudly when they sleep. They may be intolerant of activity because of the restrictions to their breathing.
Surgery can often help significantly improve the breathing issues and help improve an affected dogs quality of life. It is also critical to keep affected dogs lean as excess weight or obesity can severely aggravate the signs associated with the Brachycephalic Syndrome.
Hope this helps.
Dr. Donna Spector
Answers provided to pet owners by Dr. Donna Spector should be considered information and not specific advice. Answers are to be used for general information purposes only and not as a substitute for in-person evaluation or specific professional advice from your veterinarian. Communications on this site are very limited and should never be used in possible cases of emergency. Halo, Purely for Pets will not be liable for any loss or damage caused by your reliance on any information or content contained in a blog or article post. If you have consulted your veterinarian and if you are still concerned about your pet's condition or if your pet has chronic, complicated or undiagnosed problems, Dr. Spector can offer consultations for you and your veterinarian via www.SpectorDVM.com.