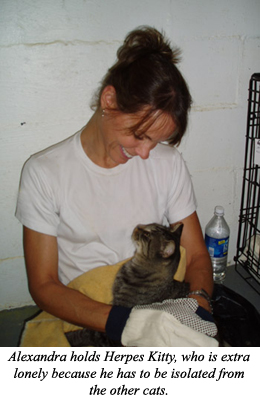 Sultry actress Alexandra Paul has a passionate commitment to animal rescue.
The former Baywatch star — who for the new PBS show (and Halo-sponsored) Shelter Me narrates a depiction of Halo's commitment to providing shelter pets nutritious, all-natural food — spent three days after Hurricane Katrina helping abandoned animals in Tylertown, Mississippi.
"After Hurricane Katrina, I was haunted by images of animals abandoned in New Orleans, trapped, scared and starving," Paul writes on her blog.
Paul flew from Los Angeles with a friend to a Best Friends Animal Society rescue operation in Tylertown, Mississippi. The pair devoted their time to helping scores of homeless cats.
"Even though I am just cleaning, feeding and comforting, I have never felt so needed and so useful in all my life," she writes. "I guess it is because these scared and disoriented animals are depending on us so totally."
It with this same zeal for homeless pets that she worked on Shelter Me. "Shelter Me is addressing the plight of shelter pets in the right way," Paul tells Halo, Purely for Pets. "This film is very upbeat and positive and explains the need for people to get involved with their local shelter. And it proves the reciprocal joy of having a pet in your life."
Back when Paul finished her stint in Mississippi, she began dreaming of rescued cats. "I don't awaken feeling terrible, though, like I did before I went to Mississippi," she writes. "I awaken missing soothing them, holding them. This trip has helped me feel better about the tragedy that was Hurricane Katrina, and I hope that I, in turn helped a cat or two.
"I am not a religious person, nor do I think of myself as particularly spiritual," Paul continues on her blog, "but I felt as close to God as I shall ever get cleaning out cages and comforting these rescued cats. It is hard to explain…Is it because it was so basic, so simple, providing food, shelter and love for the sick, the scared, the lost? I don't know. Perhaps you will have to experience it for yourself to see what I mean, and then you could explain it to me."