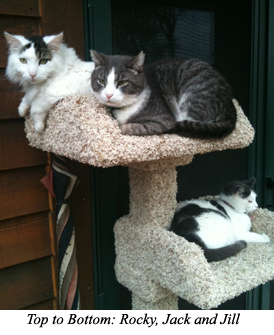 We here at Halo love to receive letters from our customers letting us know how well their pets are doing on Halo natural pet food. We like to share this letter we received from Robin Rinaldi-Esta with our blog readers:
I wanted to share my story with you. I believe a true miracle has happened. I have 3 cats that were stays and I rescued over 7 years ago. The 3 are my babies and they are very grateful to have a good home and lots to eat.
My one cat Rocky, a long haired white "Turkish Van" has bad allergies. They go in and outside so I thought the allergies were environmental. I took Rocky to the vet and they suggested predisone. I did not want him on that as we had a dog that got kidney cancer from predisone. So, I figured Rocky would have to live with his allergies.
Rocky in the last 2 years started pulling clumps of hair out around his tail and back. He was making himself bald and literally pulling his hair out by the roots. I knew he was uncomfortable and miserable mutilating himself.
I had heard Ellen talk about HALO on her show many times and after lots of prayers, it came to me, maybe if I change Rockys food, his allergies will get better. I researched HALO on the net and then went to Petco and bought some dry, can and treats.
I figured my 3 cats who are very fussy would not eat it but I was shocked they all ate the food and within a few days Rocky quit pulling his hair out and has not pulled any out since. He seems more rested and calm also. Probably because he doesn't have to constantly rip his hair out.
I believe my prayers were answered and it brought me to HALO.
Thank you for the wonderful healthy products. You have a life time customer.
Sincerely,
Robin Rinaldi-Esta
We are so glad to hear the Rocky is doing so well on Halo! Thank you for sharing your story and the great picture.