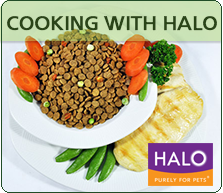 By Bettie Hamilton
Following the movie Julie and Julia I decided to cook and report on pet food recipes. Inspired by the history of how Halo, Purely for Pets homemade food evolved, my goal was to duplicate the original "Spot's Stew," a wholesome all natural recipe created for pets in 1986. All ingredients easily found in my kitchen or local grocery store closely mirrored the "stew" I often prepared for my family. The pet version was boosted by chicken liver and giblets minus conventional seasoning like salt and pepper.
Although Spot's Stew originated as a homemade diet it has evolved to a premium commercially prepared complete and balanced food. It is still made with high quality whole food ingredients but includes added essential fatty acids and the important vitamins and minerals pets require.
My cooking project, although fun and appreciated by my dogs, highlights the fact that how we feed our beloved pets must meet their specific dietary needs which are different from our own. Dogs and cats require specific amino acids from proteins, essential fatty acids, carbohydrates, vitamins, minerals and most important — water.
How do we achieve this balance? Pet parents need to understand what nutrients benefit their pets and how much are required for optimal health. Be diligent and read labels looking for real quality protein, nourishing whole grains, fruits and vegetables. Look for food with wholesome easy to understand ingredients. Animal protein should be in the top ingredients listed.
Pet food quality can differ and consumers should know what is good in pet food and what should be avoided like by-products, artificial preservatives, colors and flavors. Check with your veterinarian, fellow pet owners or seek out nutritional information from respected publications and websites.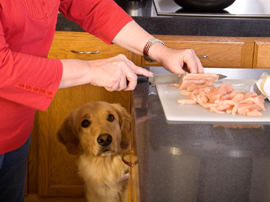 Pet owners can find an array of commercial food choices ranging from raw diets, freeze-dried, canned, or dry formulas. Some pet parents select premium natural diets found in specialty and large pet stores or Whole-Foods market. If you choose to feed Fido or kitty home-made meals, be sure that missing nutrients are supplemented.
Bottom line, when selecting a diet for your pet, remember that diet influences health and our pets have specific nutritional needs. Look to provide complete and balanced food and when your pet empties the dish is satisfied, healthy and happy; you have made a great choice.
Bettie Hamilton heads-up Halo's product development working closely with animal nutritionists and veterinarians to bring you wholesome food, treats, and supplements made with the highest quality natural whole food ingredients ( like those you can find in your own kitchen). She shares stories and tips with hundreds of pet owners about Halo through speaking engagements, lifestyle articles and casual meetings on planes or in a park. Bettie's pets Gracie, a Brittany, and Molly, a beagle, are often the first to give a paws up approval for new items, while neighborhood cats weigh-in on feline cuisine.