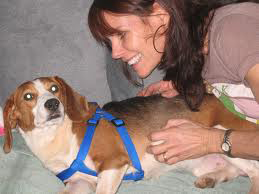 Just before Thanksgiving, the actress Alexandra Paul took in a new member to her family: a foster beagle she and her husband named Javi.
Javi is one of 40 beagles rescued from a research lab in Spain and flown by the Beagle Freedom Project to America, Paul, a Baywatch star, writes on her website.
"He is slowly coming out of his shell," writes Paul, who for the new PBS show (and Halo-sponsored) Shelter Me narrates a depiction of Halo's commitment to providing shelter pets nutritious, all-natural food.
"He can now roam free after 4 years in a cage," she continues, "and in the last week he has met his first cat and played with other dogs for the first time."
Paul's passion for rescuing animals includes three days in Mississippi after Hurricane Katrina volunteering with Best Friends Animal Society to help save abandoned animals. She also urges everyone to adopt rather than buy a new pet. "I oppose the buying and selling of animals (get your pet from a pound, not a puppy mill!)," she writes on her website.
Watch this video: The Beagle Freedom Project's 4th Rescue – 40 Beagles from Spain: