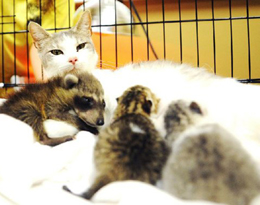 J.J. the cat arrived at the Jonesboro Animal Control in Jonesboro, Ark. just in time to give birth to her two kittens in a warm, safe environment. Later that day, she was keeping another baby safe and warm too – a tiny raccoon named Bandit.
After finding Bandit alone outside, police officers staffing the Animal Control team brought him to the facility to care for him.
"One of the officers volunteered to take care of Bandit," said Sergeant Larry Rogers, a 27-year member of the force and responsible for the Animal Control division. "It's a lot of work; they need to be fed every two hours."
Click here to read the complete story.