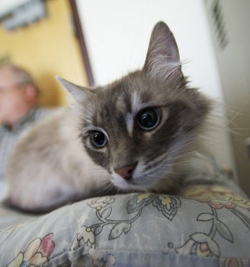 It may be surprising to some that a cat named Princess Natalie would be happy living in a prison cell, but this princess is thriving under the care of inmates at the Larch Corrections Center near Yacolt, Washington.
According to the Columbian, which originally shared the story, Natalie is part of Cuddly Catz, a new foster cat program at the minimum-security center that helps prepare cats for adoption. Natalie lives with two inmates – Joey Contreras and Joseph Walter – who dote on her and have already helped make a big difference in her behavior.
Before joining the program, Natalie struggled in foster care. Her aggressive behavior included spraying, biting and scratching to the point that Marsha Thomas-Carney, her foster mom, was at her wit's end.