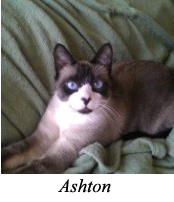 Halo Facebook Fan, Josh Eggiman, gave us an update about his cat, Ashton, and how he's been doing since switching to Halo natural cat food. Here's what he had to say:
"Hello Halo! I just wanted to say thank you! I had tried other "good" cat foods in the past, but since switching to Halo, Ashton is in perfect health. His coat is shiny & soft, his poop is clean & he has boundless energy! I will not use any other product for my Ashton."
Thank you Josh for choosing Halo and we are happy that Ashton is healthy and energetic!