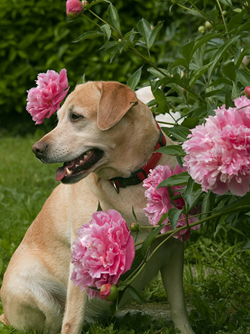 Spring and summer bring outdoor sun and fun for the whole family but may also bring some specific hazards to our pets. Lawn and garden products, toxic plants and trees, and other potential outdoor hazards like compost and pool chemicals can all pose problems if you have an inquisitive pet.
Common gardening hazards include:
• Fertilizer and mulch—see more about cocoa mulch below
• Insecticides and pesticides—including mosquito dunks, grub control, ant/roach/fly bait
• Slug and snail bait
• Rodenticides
• Citronella candles or torches
• Pool or other chemicals
• Compost—may contain toxic foods or mold which may be toxic to pets
• Toxic plants—sago palm, azalea, foxglove, rhododendron, mushrooms, etc.
• Toxic trees and vines—avocado, macademia, fruiting trees, grapes, etc.