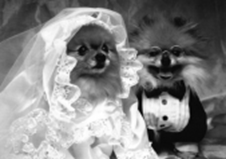 BARKING NEWS – Church bells are RINGING for Lucky Diamond – she's getting married! The bigger news? She's still searching for the puppy love of her life. Right now, we're doing a major pet hunt to find the perfect match for Lucky and carry on her legacy of helping animals, a loving animal to take her paw in holy mutt-imony.
Lucky, a beautiful Maltese rescued by Wendy in 1999, is a top-of-the-line, take-no-prisoners, to-be-seen-with dog. Her life story is an incredible one — from the streets to the shag rugs, she has managed to constantly attract love and affection. She's in the Guinness Book of World Records, after all! She has been rocked in the arms of lucky celebrities all over the world and has the photographs to prove it: Bill Clinton, Sting, Rosie O'Donnell, Betty White, Snoop Dogg, and so many more! Her entire life has been dedicated to helping her fellow underdogs promoting animal rescue and welfare! But maybe there comes a time in every dog's life when it is time to settle down…
Read the complete story on Animal Fair.