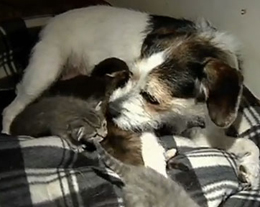 Mother's Day came early for a beagle terrier mix in Portage Mich., according to local news station, WWMT-TV.
Sydney astounded her family when she began caring for five tiny kittens that her owners rescued from a construction site.
Soon after the kittens arrived at her home, Sydney's maternal instincts kicked in and she began nursing the kittens, who had no problem nuzzling up to their new mama.