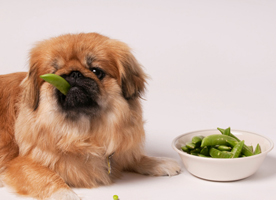 All parents say to their human kids that they should eat more veggies – which are good advice for pet parents to give their dogs, too. One of the things I love about Halo kibble is that there are pieces of real dehydrated veggies in with the kibble, as well as vegetables in the actual mix that becomes the dry food. However, there are many ways to increase the amount of vegetables in your dog's diet since they are such a good source of vitamins and digestive fiber. Veggies can also help to fill up the tummy of a dog that needs to lose some weight.
Raw vegetables can be a dandy snack for a dog who likes them, however you never know which dog or which vegetable will be a good match. My own big Weimaraners spit out vegetables, while my sister's really small Brussels Griffon girls – Lulu and Sprout (is that name a hoot, or what?) – adore all raw vegetables. One is 10 years old and the other is only 10 months old (and not much bigger than a Brussels sprout herself) but they both munch happily on pieces of any uncooked vegetable – from carrots to asparagus, broccoli, cauliflower, snap peas, you name it.
We should all try to encourage our own dogs to crunch some veggies since food in a fresh, unprocessed state has the most nutritional value. See if you can't start by developing your dog's taste for raw carrots – those little mini carrots make a perfect snack for large or small dogs. There is the fun of the crunch and all that digestive and vitamin value, and, for dogs who have to watch their weight, none of the calories and carbohydrates of biscuit snacks.
Tracie Hotchner, author of The Dog Bible and The Cat Bible, guest blogs here every Thursday on healthy, natural choices for pets.