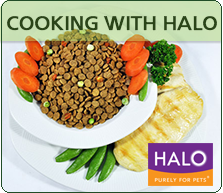 Pet owners love to talk about their pets and easily volunteer information about what their pets do and do not like to eat. Often owners reveal picky eating habits and disclose the multiple feeding regimens required at dinner time. "Picky" can mean several different things. It can occur when doting pet parents panic when food is first refused and begin to offer a variety of food or treats that may not be nutritious.
Animal nutrition is not "one size fits all" and nutritional needs can differ in various ways. One example is by size. Think about small dogs, those under 25 pounds. Toy and small breed dogs have little bodies, abundant energy, smaller mouths and shorter digestive tracts. They are likely to spend more time indoors snuggled on your lap or in a comfy bed. Little dogs tend to live longer than larger breeds and consume significantly less food.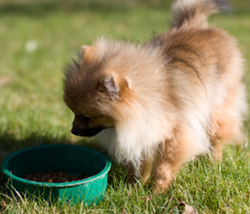 If you have a small dog who is a picky eater consider feeding a specially prepared quality food like Halo's Spot's Stew toy and smaller breed recipe. Your tiny companion relies upon his sense of smell and taste when selecting food.
This natural whole food dry recipe is an appealing complete and balanced diet, providing all the essential nutrients needed for optimal health. A balance of high quality fatty acids helps promote healthy skin and coat. Unique to the diet is the addition of DHA Omega-3 a valuable functional fat. A small dog may actually eat less of this easily digestible recipe, resulting in less waste to pick up.
Bettie Hamilton heads-up Halo's product development working closely with animal nutritionists and veterinarians to bring you wholesome food, treats, and supplements made with the highest quality natural whole food ingredients (like those you can find in your own kitchen). She shares stories and tips with hundreds of pet owners about Halo through speaking engagements, lifestyle articles and casual meetings on planes or in a park. Bettie's pets Gracie, a Brittany, and Molly, a beagle, are often the first to give a paw up approval for new items, while neighborhood cats weigh-in on feline cuisine.