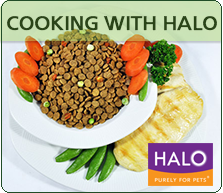 Appearing on QVC to talk about Halo's Liv-A-Littles protein treats was a wonderful experience. To the delight of all in attendance the treats were enthusiastically gobbled up by happy dogs for viewers to see. You can hear about what a great and healthy treat these are but nothing says it better than the dogs and cats that twirl, dance and beg for just one more.
Why are these protein treats so special? Pure and simple – Liv-A-Littles® are made from 100% chicken breast, beef or wild salmon yielding a natural treat that's high in protein. These freeze dried morsels burst with flavor when mixed with saliva. Once moistened, the pieces plump up, tempting the taste buds of even the most finicky pets.
Protein is naturally craved by dogs and cats. Unlike typical biscuits, chewy treats and cookies, freeze dried protein treats are low in fat, carbohydrates and fiber. They contain no artificial colors, preservatives, added sugar, wheat, corn or other ingredients that add extra calories. These versatile treats can be crumbled and sprinkled on food for added flavor or mixed in water to encourage hydration on warm days.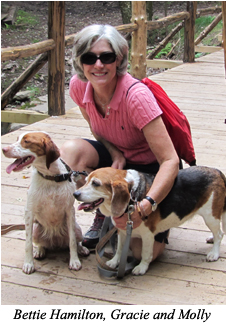 Equally loved by both dogs and cats, Liv-A-Littles protein treats are a great household staple that go a long way to show pets how much you care. Conveniently packaged in re-sealable jars they can be found at Whole Foods, PETCO, independent pet stores and QVC.
Bettie Hamilton heads-up Halo's product development working closely with animal nutritionists and veterinarians to bring you wholesome food, treats, and supplements made with the highest quality natural whole food ingredients (like those you can find in your own kitchen).
She shares stories and tips with hundreds of pet owners about Halo through speaking engagements, lifestyle articles and casual meetings on planes or in a park. Bettie's pets Gracie, a Brittany, and Molly, a beagle, are often the first to give a paw up approval for new items, while neighborhood cats weigh-in on feline cuisine.