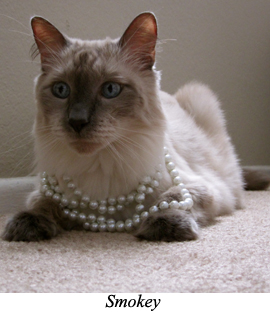 Congratulations to our latest winner from our monthly "Thank You for Forwarding" drawing. Lauren Smith from California won a Halo Cat Intro Kit for her cat, Smokey and her friend, Andrew.
Here's what she had to say about Smokey and Halo:
"My pet's name is Smokey, and he is a half Siamese half Himalayan rag doll cat who absolutely loves his pearls! (see photo). He has been with me for the last 11 years and has been much more than a perfect companion for me. He is always there when I need him, and I have never met another cat who would allow me to hold him, play with him, and cuddle for as long as my Smokey. Even after so many years, he is still able to run around and play as if he were only a kitten. The best part about Smokey is that he would much rather have a candy wrapper or a piece of ribbon or foil than any toy…unless lasers are involved! His attitude and loving demeanor have brightened every day we have shared together, and I would never trade him for another. We have been through everything together, and I can only hope to be able to enjoy many more years to come.
I learned about Halo from the Ellen show, after products were promoted on the show. I am always looking for the best things when it comes to my Smokey, and after doing my research, it seemed to me that Halo is the best."
Thank you Lauren for choosing Halo natural cat food and we hope that Smokey stays healthy for many more years to come.
To receive special offers and a chance to win an Intro Kit, subscribe to the Halo newsletter. Winners will be announced on our blog by the end of the month.