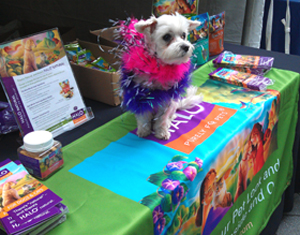 The Halo team would like to take a moment to remember and honor a special friend of ours, Lucky Diamond.
Lucky, a beautiful rescued Maltese, passed away June 5, after a courageous battle with spleen cancer. She died peacefully at home with her mom, pet lifestyle expert Wendy Diamond, by her side.
The 16-year-old Lucky spent her life advocating for other animals. After Diamond adopted her in 1999, Lucky became the inspiration behind Animal Fair, an organization dedicated to helping homeless pets, though media, fundraising and other events.
In addition to her charitable work, Lucky also earned the title of the dog most photographed with celebrities, from Betty White to Kristen Stewart to Hugh Grant and more than 350 other celebrities.
Rest in peace, sweet Lucky. We feel very lucky to have known you.