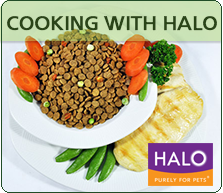 Living a holistic lifestyle of health and well-being in harmony with nature has many benefits for us and our pets. Feeding dogs and cats natural or organic food instead of diets with artificial ingredients, colors or chemicals helps promote wellness.
Halo, Purely for Pets evolved from three guiding principles — balance, nature and love. For over 25 years HALO has adhered to the holistic philosophy that staying close to the ways of nature and eliminating harsh chemicals from a pet's diet and environment influences pet health and well-being.
Wholesome natural diets that are highly digestible often result in less waste to pick up. Consider natural supplements for healthy skin and shiny coat or to help promote joint health. Check with you veterinarian on natural options to some medications.
Plenty of fresh air from lengthy walks, fun games, or interactive play keeps pets busy and happy. Quiet time with gentle ear rubs or a delicate massage can help both you and your pet relax and build a stronger bond together. Eco-friendly products for pets help protect them and our environment. Select organic toys made with natural fibers and fillers. Look for beds, collars and leashes that do not contain artificial dies and are made from recycled materials.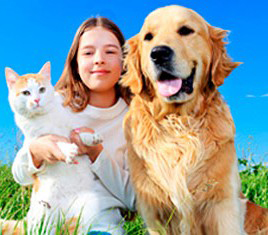 Grooming products should be natural, non-irritating and chemical free. Heavy perfume can be irritating to delicate senses. Halo's CLOUD NINE® herbal shampoo is an infusion of pure botanical oils and extracts. It is gentle, safe and biodegradable.
Avoid harsh chemicals from non-green, toxic household cleaning products. Cats and dogs have delicate skin which can easily become irritated from chemicals used to clean floors, rugs or other surfaces. Select home products that are safe to use around children and pets. And now with the weather turning warmer, select chemical free organic lawn and garden products.
Bettie Hamilton heads-up Halo's product development working closely with animal nutritionists and veterinarians to bring you wholesome food, treats, and supplements made with the highest quality natural whole food ingredients (like those you can find in your own kitchen). She shares stories and tips with hundreds of pet owners about Halo through speaking engagements, lifestyle articles and casual meetings on planes or in a park. Bettie's pets Gracie, a Brittany, and Molly, a beagle, are often the first to give a paw up approval for new items, while neighborhood cats weigh-in on feline cuisine.