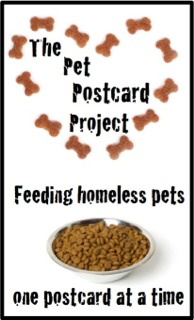 During the months of May and June, Freekibble.com will be donating 10,000 Halo natural cat food meals to The Stray Cat Alliance in Los Angeles, CA as part of The Pet Postcard Project, founded by Nikki Moustaki.
Spearheading the campaign is Jackson Galaxy, star of the Animal Planet's show, My Cat From Hell. As part of this campaign, he is giving away two signed copies of his new book, Cat Daddy: What the World's Most Incorrigible Cat Taught Me About Life, Love and Coming Clean, to two people who send in the most heartwarming handmade postcard of their own cat or dog.
In addition, the person who sends in the best homemade postcard of a cat during this campaign will win a phone call with Jackson Galaxy.
All you have to do is send in your handmade postcards of your own pet and it will help feed shelter pets. 2500 postcards will trigger the donation.
Last summer's Pet Postcard campaign, Freekibble.com donated more than 15,000 Halo meals.
Click here on The Pet Postcard Project for complete details.