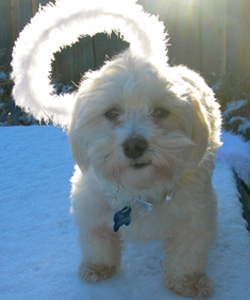 We like to share this wonderful letter and picture that we received from Maxine Kendall with our blog readers:
Hello Halo,
I just wanted to let you know that our two year old dog, Gandalf was a very fussy eater when he came to us from a shelter. He had been abused, so I indulged him. I tried many different brands until I discovered Halo.
I introduced him to it slowly, adding it in with his old food, but he would only pick out the Halo food and leave the rest. It was so funny to watch! I finally gave up and threw out the old stuff. We shall try the treats next. I can't tell you how may boxes I've thrown away, because he's just not interested. Thank you for such a great product.
You may also like to know that Gandalf saved us from what could have been a serious house fire his very first night in our home. He is our Guardian Angel, so when a friend suggested he wear a halo for Halloween, I couldn't resist. He actually really liked wearing it. I'm sending the photo as an attachment, so you can see for yourself.
Kind regards,
Maxine Kendall
Thank you so much Maxine and we are so happy to hear that Gandalf now is eating well with Halo!