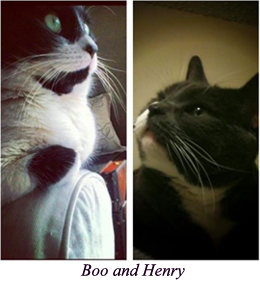 Facebook Fan, Adam Burton from Calgary, Canada, wrote on our Halo Pets wall about his two cats, Henry and Boo and their experience with Halo natural cat food. Below is his full testimonial.
"I have to tell you how happy I am with your products. It seems like in the last year or so consumers have become more educated when it comes to what really is and more importantly what is not in pet foods. I was looking for a high quality food for my pets – Henry and Boo, and was very impressed with what was in your product meat was the first ingredient, followed other easy to recognize ingredients like eggs, peas, veggie broth even apples and cranberries! All of these great natural ingredients with all the vitamins and minerals that my cats need.
Having older cats I was reluctant to try them on a new dry food. Henry and Boo can be quite discerning – I guess all cats are. That said, after an initial sniff they immediately started to eat, and looking at the empty bowls, thoroughly enjoy the HALO food. This food, even though considered dry has a clearly flavourful oil, that my cats seem to love. I noticed in a couple of days that their litter was less – how do I say… Smelly… within a couple of weeks I noticed their eyes seemed brighter and also that their coats were incredibly soft. Above all else, they are happy – and I am happy to have found a superior cat food that recognizes that quality food is just as important to our furkids as any other family member. Having a beloved animal as a family member requires the same careful attention to diet, health and affection that we would show our kids.
HALO is providing Henry and Boo with tasty excellent balanced nutrition – and reassures me that I am giving them the best cat food I can.
Thank you HALO for your responsible, uncompromising standards with your foods and treats. If Henry and Boo could, I am sure they would give you a cuddle!"
Thanks! – A cat dad and his furkids – Adam, Henry & Boo – Calgary, Canada
Adam, thank you very much for sharing your story with us! We are glad that Henry and Boo enjoy Halo and that they continue to be happy and healthy cats!