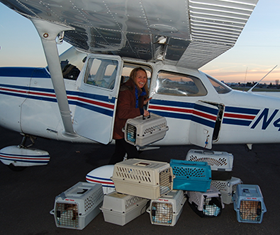 Last year, the Cat House on the Kings, a California cat sanctuary with almost 700 cats and a handful of dogs roaming freely on acres of land, had a special request of pilot Bonny Schumaker. Could she fly 36 of their cats and dogs to another rescue in Bellingham, Washington? Schumaker, who can never say no, loaded the animals into her Cessna 172 and delivered her precious cargo. Says Schumaker: "I take rescues every chance I get."
Schumaker created the non-profit On Wings of Care in 2010, but she's been rescuing animals all of her life. "When I was growing up I'd have my mother take me to the humane societies, and I'd usually come home with one or two animals and find them a home," Schumaker says.
While she dreamed of becoming a wildlife veterinarian, Schumaker ended up earning a PhD in physics and working for a NASA subcontractor. Yet every spare moment away from work she'd rescue wildlife near her cabin in the mountains north of Los Angeles, including squirrels, bobcats and cougars. "I found a way to do what I always wanted to do," she says, "but as a hobby."
Click here to read complete story.