I've been talking recently about how important it is to introduce vegetables into your dog's bowl (and while you're at it, you should add as much greenery to your human family's diet for optimal health, too!). A great way to increase the variety and quantity of vegetables in your dog's bowl – with the minimum of effort for you – is to make a big pot of "dog minestrone" (the Italian word for vegetable soup).
There are many advantages to providing your dog with vegetables in soup form – a dog who is a picky eater will usually accept a medley of thoroughly cooked veggies in a tasty broth. There is no limit to the vegetables you can include (as long as you avoid onions). You can use fresh vegetables but I often use frozen vegetables, instead, because they are usually less expensive than fresh (the frozen usually run about one dollar a pound), are easier to work with because they are already in the right size pieces and require no work with a knife and cutting board. And often have a higher nutritional food value than fresh because the vegetables are often frozen immediately after picking, which preserves their vitamin content better than vegetables which travel long distances to the store, where they may sit even longer.
What's great about dog minestrone is that there is no absolute recipe for it- you can make it differently each time with whatever veggies you can get. First, I always take a large bag of raw carrots and put it through the shredding blade of the food processor. Then I take an approximately equal amount of the sweet potatoes shredded on the same bridge. ; You can also add other vegetables like cucumber, celery, and zucchini (all of which I cut into cubes, instead of shredding because otherwise they "disappear" into the soup). A handful of parsley in the soup pot can add health benefits, too.
Then I take out a plastic bag parked in my freezer that I have been adding to when I cook – in it are all the vegetable cuttings that have been accumulating and saving up over the weeks since the previous dog minestrone production – things like carrot peelings, imperfections of lettuce, and leftovers from dinner plates. After that I get a big bag of frozen peas, another of string beans, one of chopped broccoli and one chopped spinach and add them all to the pot. If I have greens like beet tops from beets, I roughly chop those greens and stash them in the freezer until I start the soup pot. Any veggies that are past their prime can be roughly sliced or chopped and added to the pot that way.
It is not a lot of work to make dog minestrone because you can make a big soup pot full that can last for a month – depending, of course, on how many dogs you have, how large they are, and therefore how large the soup pot is. After it bubbles for a while, I add a few handfuls of raw oats and/or rice to the vegetable mixture to absorb the extra liquid.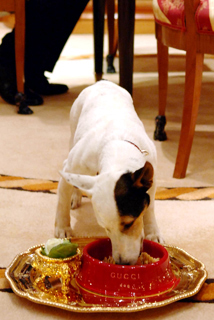 You can freeze the cooked soup by waiting until it cools down, and then ladling it into large freezer bags; flatten them out and stack them in your refrigerator (if you'll use them within ten days) or put them in your freezer with a paper towel between every two bags so they do not get stuck frozen together.
In addition to the nutritional value of feeding your dogs this vegetable medley, there is a benefit to continuing feeding the vegetable soup because it makes your dog feel full without putting on weight, as carbohydrates can do. (You can always pop a meaty soup bone into the pot to give added flavor, especially for finicky eaters – but just remember to throw away the bone at the end since bones are dangerous for dogs in various ways, with cooked bones being the most potentially harmful).
Tracie Hotchner, author of The Dog Bible and The Cat Bible, guest blogs here every Thursday on healthy, natural choices for pets.