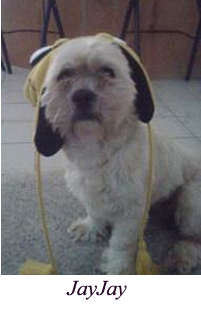 We have another winner from our monthly, "Thank You for Forwarding" drawing. Michelle D. from Maryland just won a Halo Dog Intro Kit for her dog and a friend.
Here's what Michelle has to say about Jay Jay and Halo:
My dog's name is Jay Jay and he is a Shitz-poo. He's very playful and loves to play in the dirt. I happened upon Halo while surfing the Internet at random and decided to give it a try.
He's 7 as of April 6th and his favorites are Spot's Stew Wholesome Chicken and Spot's Stew Wholesome Lamb. Jay Jay loves it!
Thank you Michelle for choosing Halo natural dog food and we hope that Jay Jay continues to enjoy Halo!
To receive special offers and a chance to win an Intro Kit, subscribe to the Halo newsletter. Winners will be announced on our blog by the end of the month.