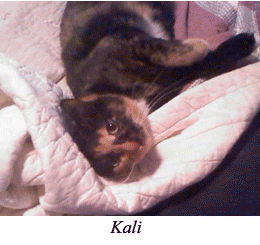 Earlier in June, Halo Facebook Fan, Sarah Crawford, posted pictures of her cats – Kali, JR, and Ming. She had recently switched them to Halo natural cat food. A few weeks later she gave us an update. Here's what she had to say:
Well Halo Pets we are giving you our month update on the change in food. Kali, JR, Ming posted a picture a month ago telling you they changed our food. Well, we love it and JR is not throwing up. I give them turkey for sensitive and skin formula and our doctor said we made a great move to Halo.
I was told Halo is a very high quality food for pets. He is an all-natural doctor. ?This picture is of the two JR and Ming eating the wet can food. Kali ate hers and left. JR can't digest dry food to well so everyone gets a little wet. THIS PRODUCT IS AWESOME!!!!!!!!!!!!!!! THANX!!!!!!! We found our food for life. Keep up good work.
In addition, this is what she had to say about Halo natural dog food:
As of 7-4-12 all 6 animals LOVE HALO FOOD!!!!!!! My dogs been on Halo food a year now and they get good health exams and have very healthy coat and skin. It helps my dachshund's allergenic skin. WE LOVE HALO FOOD AND TREATS!!!!!!!! We have our food for life.
Sarah, we are happy all 6 of your animals are happy and healthy! Thank you for letting us know that Halo is now part of your family!