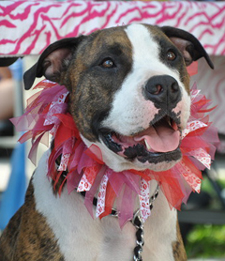 Limbo Chihuahuas-Chihuahua Rescue filmed a special "Thank You" video on June 10, 2012 and they invited everyone to come out with their dogs, costumes and signs for Ellen DeGeneres, Halo, Purely for Pets and Freekibble.com for sponsoring the 2012 Pet Pride event.
The Gulfport animal rescue organization has helped place dozens of dogs and cats with foster homes and forever homes across the Tampa Bay area. Mary "Megan" Barrett helps run the rescue and said there was a great turn-out to the special video shoot.
Halo, Purely for Pets and Freekibble.com sponsored the 2012 Pet Pride event in April and the organization donated 200 pounds of Halo Spot's Stew to her rescue alone and 200 – 400 pounds of food to each rescues that participated in the event.
Barrett says Sheri-Lyn and Scott Traylor of Pet Pride Magazine shot and edited the video. Limbo Chihuahua-Chihuahua Rescue and other rescue organizations will have their own "Thank You" videos sent to Ellen and Halo, Purely for Pets.
Enjoy this slide show of the event with Limbo Chihuahuas-Chihuahua Rescue, 4Paws Rescue, DARE Rescue and lots of friends.