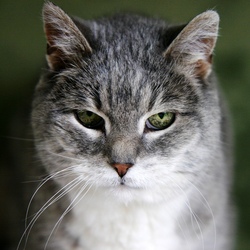 Question: My question is about diabetic older cats (14 Years old) . Protein and the kidneys. My cat Jigger is on insulin (2 units AM/ 3 units PM) he is fabulous. He was diagnosed in 2007, lost his extra weight and is doing great, however, the prescription diet foods he does not like and neither do the other two.
I am researching better foods and they love Halo, however my vet is concerned about the amount of protein and the older cat kidneys ( no kidney problems yet). I want better healthy food for them just like I am eating. And I read some not so good things about the prescript. diets, ie.; contents of the food and where it comes from. Can you offer your expertise? Thanks.
Answer: Thanks for your question. Experts in the field of feline diabetes are indeed recommending a high-protein/low-carbohydrate approach to the treatment of this disease. With this dietary approach, it is possible to get many cats (not all) to revert to a non-insulin requiring state (called diabetic remission). However, not all older cats can be managed this way due to concurrent issues with kidney failure or other conditions that may preclude them from eating this type of diet.
Hope this information helps.
Dr. Donna Spector
Answers provided to pet owners by Dr. Donna Spector should be considered information and not specific advice. Answers are to be used for general information purposes only and not as a substitute for in-person evaluation or specific professional advice from your veterinarian. Communications on this site are very limited and should never be used in possible cases of emergency. Halo, Purely for Pets will not be liable for any loss or damage caused by your reliance on any information or content contained in a blog or article post. If you have consulted your veterinarian and if you are still concerned about your pet's condition or if your pet has chronic, complicated or undiagnosed problems, Dr. Spector can offer consultations for you and your veterinarian via www.SpectorDVM.com.