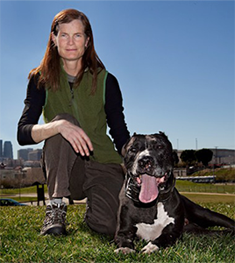 Sixteen years ago near her office in Los Angeles, right near the city's skid row, Lori Weise noticed an abundance of homeless people with an abundance of dogs. "I looked around and wondered 'Who's helping all these people who have dogs?'" says Weise, the general manager of Modernica, a furniture maker. "People had dogs who had more dogs."
Starting out those years ago by helping one man with his one dog — "I didn't even know what dog rescue was," she says, laughing — Weise's passion blossomed into a non-profit called Downtown Dog Rescue that has since paid for thousands of spays and neuters, provided training classes, and found homes for or fostered thousands of dogs.
And in the last six years, Downtown Dog Rescue has organized and paid for a monthly spay and neuter clinic held in a south Los Angeles Park, with between $90,000 to $100,000 in annual funding. In 2011, the clinic spayed and neutered close to 800 dogs, with the euthanasia rate at one county shelter dropping 30 percent, says Weise. "And," she says, "we're still going strong."
Click here to read the complete story.