I was delighted to be the "centerpiece" of a really gratifying fund-raising event on a sidewalk in Bridgehampton this past weekend – and really proud that I could take Halo along with me for the ride. A tiny adorable boutique called J. McLaughlin's wanted to raise money for Southampton Shelter, which is one of the local animal shelters in the Hamptons – and it happens to be the Official Shelter of my NPR radio show, DOG TALK® (and Kitties, Too!)
The shop manager, Lin, convinced the shelter to show up with no less than six dogs to hang out on the sidewalk in front of the store for two hours, in hope of finding homes for them.
I had put together goodies in 50 doggy bags for the first people who stopped by to meet the dogs and buy raffle tickets to benefit the shelter. Many of them were excited to find samples of Halo kibble in the bag because they had heard me talk about it so often on the air as the only kibble I'll feed my own dogs.
They also got a sample of Halo's Cloud Nine shampoo, which is also the one I use on my own dogs when I spiff them up twice a month. It made such sense to have Halo come along with me on this fund-raising and adoption-encouragement event, because Halo has proven its dedication to supporting pets in shelters, through their enormous food donations through Freekibble.com.
It was extraordinary that six young volunteers came out to participate as the handlers of dogs looking for homes and walk up and down the sidewalk with the dogs wearing "Adopt me!" vests. The pooches were all so well turned out, and had received excellent training and evaluation at the shelter, and it seemed as though several of them would be very hard to pass up.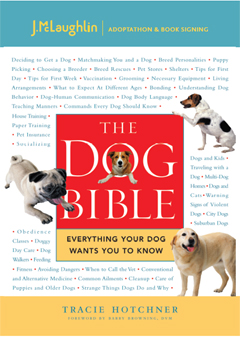 However, it was prime "beach time" on a hot summer Saturday, and pedestrians in the Hamptons are generally focused on topics other than dogs needing homes! – but the crowning moment of the day was that people did put in some applications and later that afternoon, one of the smaller dogs actually got adopted because of the event. It was such a great feeling to know that one of those dogs was going to sleep in his very own new dog bed that night, instead of going back into a concrete dog run.
Wherever you are, please visit your local shelter and see if the dog (or cat) of your dreams isn't waiting right there for you!
Tracie Hotchner, author of The Dog Bible and The Cat Bible, guest blogs here every Thursday on healthy, natural choices for pets.