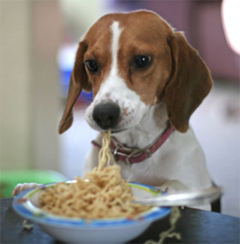 Question: I noticed that there are chunks of spiral pasta in the canned chicken – is it okay to cook up pasta and add it to their diet and if so how much should they be fed – I am a foster home for a Shih Tzu rescue and over the years I have used a lot of different brands and Halo is the best!!!! I live in a small town and the closest pet store is 35 miles away and don't always have what I need so I take advantage of the on line ordering, discounts and free shipping – Thank you.
Answer: Thanks for writing in. The short answer is that yes, dogs can eat pasta, however the amount they should eat is completely dependent on the rest of the diet they are eating, how much they weigh, activity level, etc. If you are using home-made diets they must be tailored and supplemented carefully with vitamins and minerals for each individual dog.
Dr. Donna Spector
Answers provided to pet owners by Dr. Donna Spector should be considered information and not specific advice. Answers are to be used for general information purposes only and not as a substitute for in-person evaluation or specific professional advice from your veterinarian. Communications on this site are very limited and should never be used in possible cases of emergency. Halo, Purely for Pets will not be liable for any loss or damage caused by your reliance on any information or content contained in a blog or article post. If you have consulted your veterinarian and if you are still concerned about your pet's condition or if your pet has chronic, complicated or undiagnosed problems, Dr. Spector can offer consultations for you and your veterinarian via www.SpectorDVM.com.