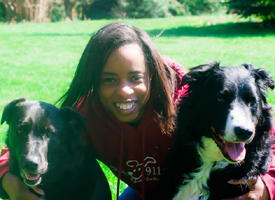 Kimberly Gauthier (also known as @TheFurMom) is Editor-in-Chief of KeepTheTailWagging.com, an online magazine for dog lovers.
She decided to buy Halo natural dog food for the first time and she documented her dogs' reaction. As she videotapes her dogs' first taste of the Salmon recipe, she explains why she chose Halo:
"It's really good premium food. You can order it online, you can buy it in the store. And what I love most about Halo is they give so much back to the rescue community… I'm just completely blown away about the fact that the people at Halo were so patient with me for the month when I was researching the food and figuring out if we wanted to make the switch.
So I was emailing back and forth with people. I was on the phone with customer service. They answered all of my questions and today we went ahead and picked up a bag.
Kimberly, thank you very much for letting us be part of your dogs' first Halo experience. Welcome to the family!