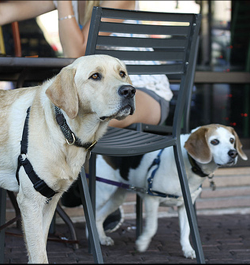 The results are in from Dog Fancy's annual search for the most dog friendly town in the USA! This year, Bend, Oregon took the top honor as the official Dogtown, USA 2012.
What does it take to be named Dogtown, USA?
For starters, there are a lot of dogs in Bend! In the town of 80,000 human residents, there are 27,000 canine citizens too.
And, there are plenty of pet friendly activities in this central Oregon town. For active pets and their people, there's swimming, boating, hiking, playing in parks and more. In the winter, there are plenty of snow sports like cross country skiing and skijoring.