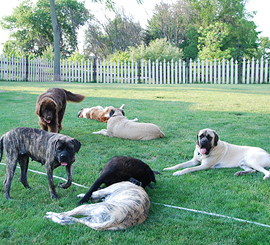 On a three-acre property in rural Zelienople, Pennsylvania, 34 huge breeds of dogs — Great Pyrenees, St. Bernards, New Foundlands, Great Danes and Mastiffs — roam free and live in harmony.
This special place is called Gentle Ben's Giant Breed Rescue, which is also the home of Noreen and Rich Kohl. "Every dog we take in becomes one our kids," says Noreen, "and we keep them for as long as it takes to find them a home."
Gentle Ben's is located about 30 minutes north of Pittsburgh. The dogs also have free run of the Kohl house, where they hang out when they're not roaming around one acre of fenced-in land. "Our goal is to socialize the dogs," Noreen says. "To learn the most about a dog is to work them into the group."
Click here to read the complete story.