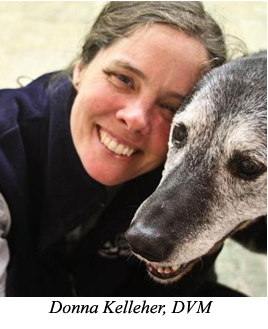 By: Donna Kelleher, DVM
Donna Kelleher, DVM, author of "The Proof is in the Poodle: One Veterinarian's Exploration into Healing" (Two Harbors, 2012) and "The Last Chance Dog" (Scribner, 2003).
A gregarious twelve-year old yellow Labrador, named Lucy sniffed every nook and cranny of my exam room, curious about everything and everyone! She came in for a stiff and painful left hip and chronic intermittent diarrhea. Her human described a lifetime of a love for life and it's subsequent hard knocks. Diving off the dock into a lake, jumping and twisting for a tossed ball or Frisbee. A Labrador's life lived to the fullest.
Her human was frustrated because medications for the dog's pain caused the dog's liver enzymes to soar to five times their normal levels. After Lucy stopped sniffing, her human talked to her and stroked her ears and I began massaging and adjusting the dog's lumbar and sacral spine. Chiropractic problems can occur secondary to twisting the spine and are often secondary to uneven back leg movement, as if she had turned her backend to avoid the pain. After my initial exam and treatment, Lucy sighed. Her eyelids relaxed and as a reward, we let her sniff again!
Next, I thread acupuncture needles into specific points along meridians running through those tender hips and Lucy sat down with a endorphin-filled glazed look in her eyes. That is when I knew we were making progress, resolving her pain. After acupuncture and chiropractic helped with her immediate discomfort, her human and I talked about how to keep her joints more inflammation free, and this is what I consider the most important part of what I do.
We spoke about nutrition and how to introduce anti-oxidant containing foods, those rich in vitamin E, A and C, into her kibble-based diet. Due to the fact that Lucy's human was busy, we discussed the merits of making a few small additions to her diet every day: a hard-boiled egg, ¼ cup mixed ground fresh vegetables, ¼ cup cooked ground meat, and 2 tsp ground sunflower seeds and brazil nuts. Over time, these simple diet changes would actually help Lucy's pain, requiring fewer acupuncture treatments. I also mixed the herb althea (marshmallow root) with milk thistle to help her liver and a meadowsweet and Jamaican dogwood tincture to use as needed for pain. With herbal medicine, it is easy to treat pain without harming the liver.
Inflammatory Bowel Disease. Hip dysplasia and arthritis. Intervertebral disc disease. Cancer. These are daunting diagnoses to be sure. When an animal caregiver is given these disheartening words to communicate their pet's disharmony, they are almost never told what I have found to be true in the vast majority of cases—their pets can often improve with good nutritional choices and the addition of other alternative or holistic therapies.
For those clients too busy to prepare home-cooked food, you might try the Halo line of foods…
In the veterinary world, we tend to think nutrition can help digestive problems, and perhaps, skin allergies, but we sometimes forget it can play an important role in the prevention of pain. Helping Lucy reminded me that the body has the innate ability to heal itself. Good nutrition can release this hidden potential.
For those clients too busy to prepare home-cooked food, you might try the Halo line of foods and especially their VitaGlo Daily Greens and Vitamin Mineral Mix antioxidant supplements.