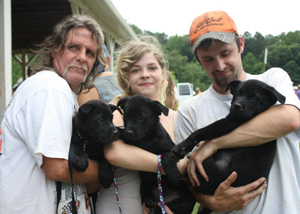 On June 9th, Jason Flatt, founder of Friends to the Forlorn Pitbull, helped distribute 4,000 meals of Halo Spot's Stew to hundreds of people and their dogs in Paulding County, Georgia.
"I feel great about it," says Flatt, of Dallas, Georgia. "It helped a lot of people in need.
The event, called 'Beat the Heat,' took place in an effort to convince dog and cat owners to spay and neuter their pets, which leads to a reduction of homeless pets. Since the event, over 300 dogs and cats have been spayed and neutered for a small fee.
Flatt, along with several other rescue groups, also provided free vaccines and free flea and tick preventatives. "The results were astonishing," he said. Some 600 pets received over 1200 vaccines, with over 450 cats and dogs signed up for spay and neuter services.
"We used the free food as an enticement to get people there," says Flatt. "We were beyond full, we had to turn so many people away. There is a real need for this."
Other rescues who turned out to help that day included Dogs on Death Row, Pet Buddies Food Pantry, Spay/Neuter Coalition and Stubby's Heroes.