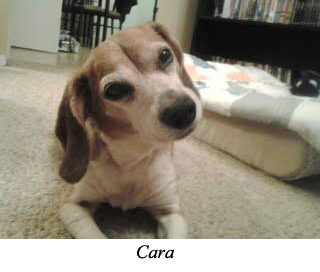 We here at Halo are always happy to hear from our customers letting us know how well their pets are doing on Halo products. Jackie Denewitt sent us this letter and picture we like to share with our blog readers:
Dear Halo,
I'm sure that you hear this type of thing all of the time, but it's important to me to thank you for your wonderful food. My 11 year old beagle, Cara, has always suffered from seasonal allergies. Starting in about March or April, she'd start itching like crazy and turning bright red. She'd itch and chew herself until she bled. I gave her antihistamines, put cream on her, and even had the vet give her a steroid shot once.
About six years ago, I started to feed her "holistic food", from another well known brand that was recalled in the not so distant past. She did seem a bit healthier. However, after I read about how this brand was manufactured alongside the same brands that I loathe for their unsavory ingredients, I decided to switch her over to Halo.
About 8 or 9 months have passed since I've switched her. A few weeks ago, my sister said to me… "have you realized that we haven't had to put a cone on Cara at all this year?". I can't believe I hadn't really thought about it at all, but she hasn't been itching at all this year, and we're nearing the end of August!
Honest to God, she's has absolutely no symptoms this year. None! I can't even believe it. She's had this problem every year she's been alive. We've had to keep a cone on her for six months out of the year. We've since switched our cats over to Halo solely and my parents have switched their cats over too. They all are so healthy and full of life.
So, really, just thank you so much for your food. I love my dog more than I could ever tell you, and seeing her go through all of this over the years has broken my heart, because nothing has ever really helped. There is no way to express how truly grateful I am, so I will just keep telling everyone I know how amazing your products are.
Thanks again,
Jackie Denewitt
Thank you Jackie for sharing your story and picture with our readers; it is wonderful news that Cara didn't suffer from seasonal allergies this year. Wishing you both all the best.