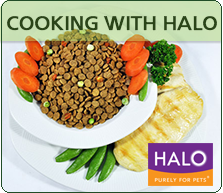 By Bettie Hamilton and Diane Herbst
A note able amazing natural ingredient used in our Spot's Chew natural dental treats is chia, a nutrient dense edible seed that comes from the desert plant Salvia hispanica.
The thing that is really neat about it is that chia, often referenced as a superfood, is the world's richest whole food source of omega 3 fatty acids, dietary fiber, calcium and antioxidants.
All of these abundant nutrients in a tiny gluten free seed is an amazing thing! Another cool tidbit about chia is that it is an all natural whole grain that when harvested is ready to use, not a processed ingredient.
It's a whole food and you can see it right there in a chew. Most people may think the only food source for omega 3 fatty acids is fish oil or something else, and here we have this little seed, in its entirety in Spot's Chews. We created Spot's Chews with chia in mind because this incredible little seed – a backbone ingredient of the chew – has so many healthy benefits.
Bettie Hamilton heads-up Halo's product development working closely with animal nutritionists and veterinarians to bring you wholesome food, treats, and supplements made with the highest quality natural whole food ingredients (like those you can find in your own kitchen). She shares stories and tips with hundreds of pet owners about Halo through speaking engagements, lifestyle articles and casual meetings on planes or in a park. Bettie's pets Gracie, a Brittany, and Molly, a beagle, are often the first to give a paw up approval for new items, while neighborhood cats weigh-in on feline cuisine.