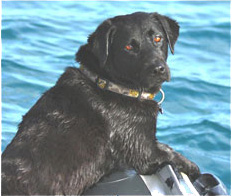 Kira, a black Labrador Retriever, has an unusual passion – swimming with dolphins.
Kira lives with her owner, Nora Withers, founder and owner of Somente Aqua Dolphin Centre in Mozambique, a country in Southeast Africa. The operation offers tourist excursions and dolphin education and conservation programs.
A recent video of Kira shows how the lab jumps in the water and happily paddles in and around a pod of dolphins. The dolphins seem to enjoy their new friend!