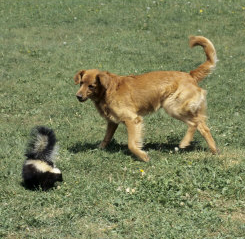 Question: How do you remove skunk odor from the mouth of a dog. His breath smells like a skunk. He was sprayed by a skunk about a week ago & still smells. We tried tomato juice and also vinegar & when he breathes he still smells.
Answer: Sorry to hear about your dog's smelly situation! Many times the odor is clinging to the hair around the mouth and I would recommend the following recipe to be applied to this area:
Mix the following ingredients in a plastic bucket:
1 quart of 3% Hydrogen Peroxide (open a fresh bottle)
¼ cup of Baking Soda
1-2 teaspoons of Liquid Soap (Softsoap and Ivory are recommended)
Directions:
1. Apply the solution to the affected area and work in deeply.
2. Leave on for at least 5 minutes or until the odor is gone.
3. Rinse the area thoroughly with lukewarm water.
4. Smell your pet! If he still reeks of skunk, repeat steps 1-3!
5. Pour any remaining solution down the drain with running water.
Good luck.
Dr. Donna Spector
Answers provided to pet owners by Dr. Donna Spector should be considered information and not specific advice. Answers are to be used for general information purposes only and not as a substitute for in-person evaluation or specific professional advice from your veterinarian. Communications on this site are very limited and should never be used in possible cases of emergency. Halo, Purely for Pets will not be liable for any loss or damage caused by your reliance on any information or content contained in a blog or article post. If you have consulted your veterinarian and if you are still concerned about your pet's condition or if your pet has chronic, complicated or undiagnosed problems, Dr. Spector can offer consultations for you and your veterinarian via www.SpectorDVM.com.