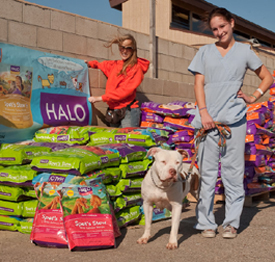 A recent survey uncovers the voice of experts on the topic of what to feed shelter and rescue pets. The experts? Shelter and rescue professionals themselves.
Halo, Purely for Pets and Freekibble.com surveyed 86 shelter professionals who have each have an average of 11 years of experience. Each person has fed an average of 5,000 pets in their career – a total of 450,000 pets total. And the majority of them agree: high quality food can make a difference in a pet's chances for adoption.
The survey stemmed from discussions Halo and Freekibble.com have with shelters who received donations of Halo Spot's Stew. Freekibble.com is a pet related trivia site where pet lovers can go each day to answer a question. Right or wrong, for every question answered, Freekibble.com donates 10 pieces of all natural, nutritious Halo's Spot's Stew kibble to shelter pets.
The two organizations routinely request feedback from donation recipients and started to see a trend – shelter professionals were pointing out that higher quality food (like Halo in these instances) was making a difference in the adoptability of shelter pets! They were healthier, looked better, their fur was glossier and their eyes brighter.
Of the shelter workers surveyed:
• 71% said that better food quality "definitely helps" dogs and cats to get adopted. An additional 19% said it "helps somewhat," and 9% said, "It might help."
• 75% said the quality of Halo Spot's Stew "definitely helps" dogs and cats to get adopted. Not even one professional said, "it doesn't really help."
• 77% said they would choose Halo Spot's Stew over any other brand. Other brands mentioned were Purina (3.5%), Wellness (2.3%), and Hill's Science Diet, Natural Balance, Eukanuba and Blue Buffalo (1.1% each).
Read the full release and shelter professional comments here.