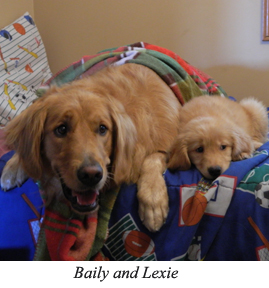 Congratulations to our latest winner of our monthly "Thank You for Forwarding" drawing. Jennifer H. from Kansas just won a Halo Dog Intro Kit for her dogs and a friend.
Jennifer has two Golden Retrievers – Baily and Lexie. Here's what she has to say about them and Halo:
"These are our Golden Retrievers Baily 2yrs and Lexie 3months. They are such a joy in our lives and keep us very entertained. They like swimming in our backyard pool, going for walks and playing with our 4 kids. We just got Lexie 4 weeks ago and her and Baily have become best of friends and they keep each other busy while the kids are at school.
We look forward to many happy years with our Golden girls! When we first got Baily as a puppy her owner had her on Halo food and highly recommended it. We have been using it ever since and have been very happy with it. When we got Lexie it was just a given that she use Halo products as well, considering Baily was doing so good and loves Halo. Halo is a wonderful product and our pets are healthy and happy! Thanks so much!"
Thank you Jennifer for choosing Halo natural dog food and we hope Baily and Lexie continue to enjoy Halo!
To receive special offers and a chance to win an Intro Kit, subscribe to the Halo newsletter and the winner will be announced on our blog by the end of the month.