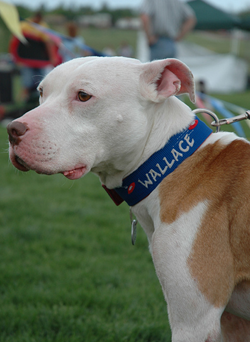 In 2004, Wallace was a homeless, badly-behaved white pit bull facing death at a shelter in Minnesota. In stepped his saviors, Clara and Andrew "Roo" Yori, shelter volunteers who saw vast potential in the energetic, misbehaving pup.
Roo worked relentlessly with Wallace, channeling the dog's strength, muscled physique and uncanny agility into an unlikely pastime for pit bulls – competitive flying disc, or Frisbee.
In a sport prejudiced against pit bulls, Wallace and Roo overcame incredible odds. Within two years of leaving the shelter, Wallace sprinted and leapt his way to becoming the world champion of disc dogs, the first pit bull to win the "Olympics" of the sport.