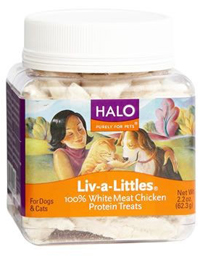 We love to hear from our customers letting us know how well their pets are doing on Halo products. Marilyn Ferrell sent us this letter and this video clip about Liv-a-Littles Chicken Breast Protein Treats and we like to share with our blog readers:
Dear Halo,
I purchased your freeze dried chicken treats as a low carb treat for my diabetic cat, Missy. She LOVES them. I give them to her while I check her blood glucose level and she purrs through the whole thing. She will even come find me, if I am running late on her test. 🙂
Her brother, Phoenix loves them as much as she does and I use the 'treaties' to get them to come in before dark. (they are in a fenced yard, not running free)
I thought you might like this short video of Phoenix coming when called…..
Thanks for a great, healthy product!
Marilyn Ferrell
Thank you Marilyn for your letter and sharing this cute video clip with our readers. We are so glad to hear that Missy and Phoenix are enjoying the treats.
Watch the video: