I never actually thought I'd be one of those people writing a testimonial to HALO about how their food turned around my dog's health – but I am going to do just that! HALO changed the world for my friend Jill in the Berkshires, who, with my help, recently adopted a dog she renamed Spring. This lovely dog had been languishing in two shelters after being rescued in Northern Vermont from a terrible hoarding situation. Spring suffered from the problem of being a Large Black Dog (everyone in the sheltering community knows that LBD means low adoptability, for unknown reasons) but she was also really timid because she had spent her life in horrible crowded hoarding surroundings.
Spring was moved from the county shelter in Vermont all the way to Southampton Shelter on Eastern Long Island where they thought she had a better chance of finding a Forever Home, and they sent 20 adoptable kitties up to Vermont where there were not enough cats for adoption. Southampton shelter (which had an abundance of cats looking for homes), happened to be the Official Shelter for my NPR radio show DOG TALK® (and Kitties, Too!). The irony was that I happened to now live in Vermont!
Geography aside, I was able to be a go-between and arrange to have Spring transported all the way to the Berkshires, which transformed her from Pitiful to Splendid: she now lives a life of canine paradise, with dozens of acres of fields and woods to roam in and a totally accepting owner who has patiently allowed Spring dictate the terms of engagement so that she has blossomed into a loving, cheerful, life-affirming dog.
Until the diarrhea began. Jill was not sure what triggered it, but it became a serious issue. She had Spring checked for giardia and other intestinal parasites and conditions but the tests came back negative; the vet tried antibiotics but there was not much improvement. The vet sold her a prescription food that did firm up the stool but when Jill read the ingredients on the label she was horrified – "cardboard food," she called it and said she would not keep her dog on a food with ingredients like that. She tried just boiled rice and chicken, and she added probiotics from the health food store and a supplement intended to absorb toxins in the digestive tract. But Spring continued to have serous diarrhea and was soiling the house uncontrollably, causing distress to both dog and owner.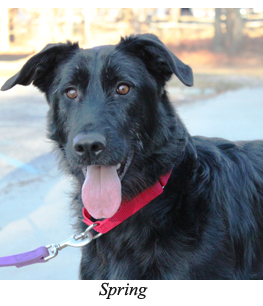 Spring's food history was that she had arrived at Jill's having been starved back in her hoarding life, and then for the many months she was in the two shelters, she was eating only the lesser quality food that is usually all that shelters can afford. Those foods tend to have a lot of indigestible plant fiber and lower quality forms of protein and highly-processed carbohydrates. Jill fed her existing re-homed dog Jackson a combination of medium quality kibble and home boiled chicken but I had told Jill to please use only HALO kibble when Spring came to her because it is a Super Premium brand and would make up for Spring's previous nutritional deficit. However, Jill was on a budget and thought it would be fine to use the cheaper, "less premium" dry food she bought at her local pet store in Great Barrington
I decided to try to convince her about HALO one more time – and I will admit I was influenced by reading those letters from folks with digestive problems who send compliments and gratitude for HALO foods to this blog. Personally, I don't have dogs with digestive problems, but I was interested in people whose dogs' tummy problems were improved by switching to HALO. For myself, the decision to feed only HALO kibble to my two rescued Weimaraners and Collie-mix was based on ingredients and integrity.
I felt confident about the pledges HALO had made about maintaining a high standard for everything they put in their foods. I feed a rotation of chicken, lamb and salmon kibble and no matter what else I put in my dogs' bowls, they eat their favorite part first: the HALO. I urged Jill to try HALO again, even though I was a little worried that Spring had some underlying problem that had not yet been figured out by the vet – and that maybe the richness of HALO's quality protein might be a challenge to Spring's digestion.
Just the opposite turned out to be the case: Spring's diarrhea became a thing of the past. In less than a week of changing to HALO dry food, her digestion was perfect. And this was a dog whose problem had been so bad over several months that she got Jill up twice every night – and there were still times she couldn't help leaving puddles of poo in the house. The food was eating did not agree with her, to put it mildly! Needless to say, Jill is now HALO's newest biggest fan and tells everyone she knows how great it is. I have to say thank you to everyone who has taken the time to tell HALO about their great experiences, because it was those testimonials that led me to believe HALO could be the miracle it turned out to be for Spring.
Tracie Hotchner, author of The Dog Bible and The Cat Bible, guest blogs here every Thursday on healthy, natural choices for pets.