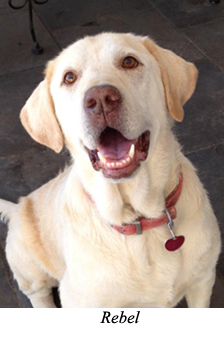 Facebook fan, Karen Tredway Fogo, told us the story of her dogs and their first experience with Halo natural dog food. Here's what she had to say:
"I just want you to know that my dogs LOVE your food. I have a pet that has a skin problem. I have played around with his diet, getting him off of grain-based foods. I have tried the more expensive foods and both my dogs turned their noses up at them.
Rebel, my dog that has such a problem just stopped eating and started losing weight over the course of a few days. Halo was recommended to me by an employee at a pet supply place here in town, as "one that had the most flavor" and that most people who tried it for their dogs seem to really like it.
I was a bit unsure that it would work, so I bought the smallest bag. For two labs that would make a few days worth of meals, from the very first serving, both dogs loved it. I did not mix it with their old food to get them to eat it. I have just ordered Halo from an online supplier. Cannot wait to see what it does for my dogs' coats. I am sharing a picture of Rebel."
Karen, thank you very much for giving Halo a chance. We are happy that your dogs enjoy Halo from the very first serving!