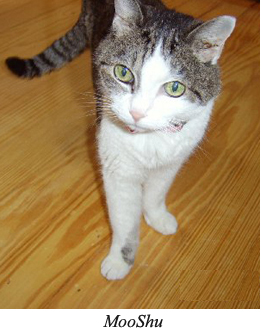 We here at Halo love receiving letters from our customers letting us know how well their pets are doing. We recently received this letter and picture from Diane, and would like to share it with our blog readers:
Hello Halo:
Just wanted to let you know that your products are amazing! I have a very petite (6 pounds) 18 year old indoor cat that has been eating the Wellness brand for years. She always just picked at her food. About a year ago, she developed chronic kidney failure and the prognosis was not good.
She was constantly throwing up, became dehydrated, would not eat and was hospitalized for two weeks getting IV fluids. When I finally took her home, I had to give her fluids on a daily basis and was still giving her fluids up until about a month ago.
I was researching cat foods on the internet and came across your site. I found a store nearby that sold your products and picked up a few cans. I only feed her wet food because she has lost a few teeth and finds the dry food difficult to chew.
Well, in about two weeks time, she had not needed any fluids. As soon as I feed her, she gobbles it all up and meows for more!! Her fur is soft and silky, she's gained some much needed weight, she is not dehydrated, she's alert and perky…she's like a kitten again!!
My vet was astounded at how wonderful she looks! I never thought my cat would be eating peas and carrots….heck….I don't even eat my peas and carrots!! I have tried all the different flavors of your canned cat food and she loves them all.
Thank you so much!! It looks like my little baby will be around for quite a while!!
Diane
Thank you Diane for sharing your story and picture with us and we are so happy to hear that is gaining weight, no longer dehydrated and doing so well.