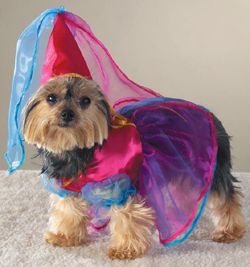 Halloween is just around the corner and Gone to the Dogs Boutique will be having their 5th Annual Howl-O-Ween Costume Contest on October 28th at Horan Park in St. Pete Beach to benefit Pet Pals Animal Shelter in St. Petersburg, FL. FreeKibble.com donated 5,000 meals of Halo Spot's Stew to Pet Pals.
The event gets bigger and bigger every year and this year they'll be, pet massages, photographers, food vendors and even a pet psychic in attendance. For the people attending, there'll be silent auctions that benefit Pet Pals Animal Shelter. Prizes are still coming in, but some include vacation stays on the beach.
All pets entered in the contest will register under one of five categories to be judged: Best Movie/TV Theme, Best Pick Your Decade Theme, Best Pet and Owner Theme, Best Traditional and Best Float.
Click here to read more about the event and for information on entering and registration for your pet visit Gone to the Dogs Boutique.