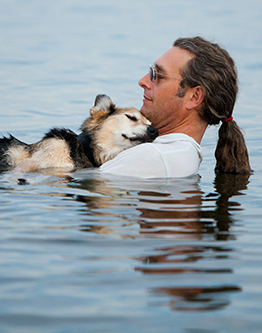 Several months ago, a photograph posted on Facebook changed the lives of a dog named Schoep, his father John Unger and, now, countless other senior dogs.
The photograph was of Unger, cradling 19-year-old Schoep in the shallows of Lake Superior. Unger's friend and photographer, Hannah Stonehouse Hudson wrote in the post that accompanied the photo: "Schoep falls asleep every night when he is carried into the lake. The buoyancy of the water soothes his arthritic bones."
No one could have predicted the response that followed. Strangers who saw the photo and were touched by the story sent letters, emails and unsolicited donations to put towards therapy treatments that might ease Schoep's pain – and that Unger couldn't afford.