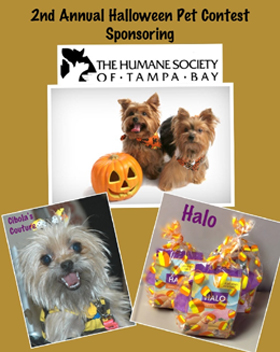 Halo, Purely for Pets was proud to support the 2nd Annual Pet Halloween Contest that was held by CiBola's Couture as a fundraiser for the Humane Society of Tampa Bay this past Saturday.
Halo donated 50 Treat Bags that included a Halo Measuring Cup, Sample of Spot's Stew Dry Food for Dogs and a Brochure all wrapped up cutely in a clear Candy Corn treat bag. The Halo Treat Bags were given to the 50 lucky pets entered in the Contest.
This was CiBola's Couture annual event to raise money for the Humane Society of Tampa Bay located at 3607 N. Armenia, Tampa, Florida.
Click here to see cute pictures of last year's winner and get more information about the event.